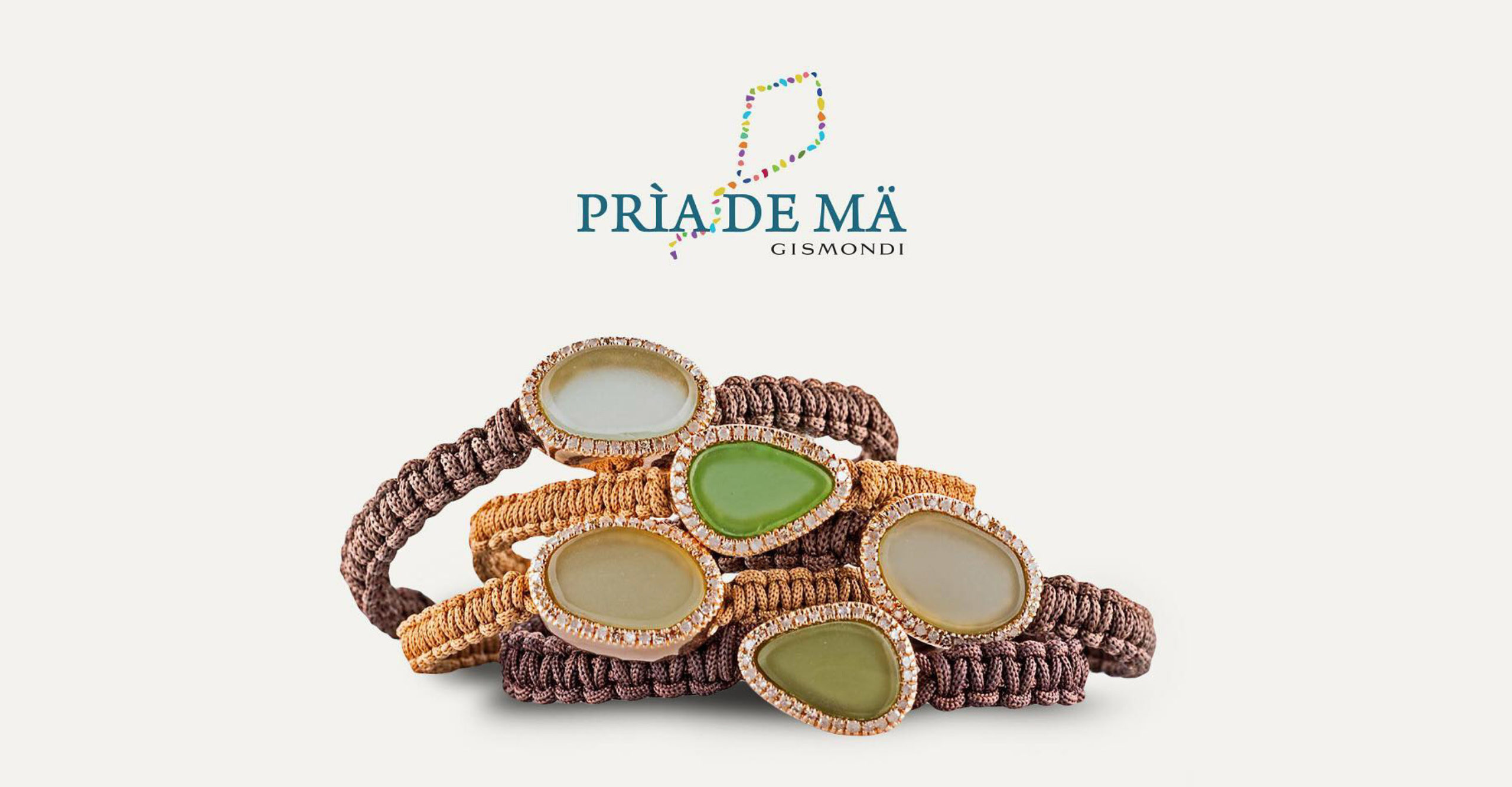 The Prîa de mâ collection is born to help a solidarity project desired by Massimo Gismondi and to identify a jewel-symbol that conveys the uniqueness of the maison.
Made with smooth stones from the sea and collected by children, the proceeds from the bracelet are destined for the Onlus Pangea Foundation, in support of the "Piccoli Ospiti" project - in favor of mothers who suffer violence and their children - and the ARCA association, linked to the 'San Martino Hospital of Genoa for the neonatal department.
The original idea for the creation of Prìa de Mä is a marvellous story worth telling. It all started in Genoa, and more precisely in Boccadasse, one of the most atmospheric Italian harbour towns, on a sunny day of Spring.

Coloured glass beads.
Coloured glass beads.
A group of children, accompanied by their families, are scattered along the beach, among pebbles and stones, seeking those tiny glass beads that we all have looked for to take home and treasure in a safe place with pride, imagining we had discovered a rare precious stone. Coloured glass beads; little objects apparently of no value, but which in the hands of a child, can take on the dignity and prestige of the most precious jewel.

The same crafting as used in high jewellery.
The same crafting as used in high jewellery.
The glass beads are collected in small bags, each labelled with the name of the little "seeker", and are then transferred to the production facilities of Gismondi 1754, in Valenza Po. At this point, the stones are treated in just the same way as diamonds, sapphires or emeralds. In fact the bracelets are produced with the same techniques as used in high jewellery.

The shape of imagination.
The shape of imagination.
The master goldsmiths then start their work: the stones are selected, cut and created according to their shape. The bracelets start to take shape, from the rigid version in silver - palladium and rhodium coated - to the scoubidou version with diamonds, and the gold model.

Noble and unique.
Noble and unique.
Alongside the inspiring noble principle, the unique feature of Prìa de Mä lies in the superior crafting of only the best goldsmiths and the Gismondi 1754 signature, a brand that has formed the history of the Italian jewellery making tradition and much more.